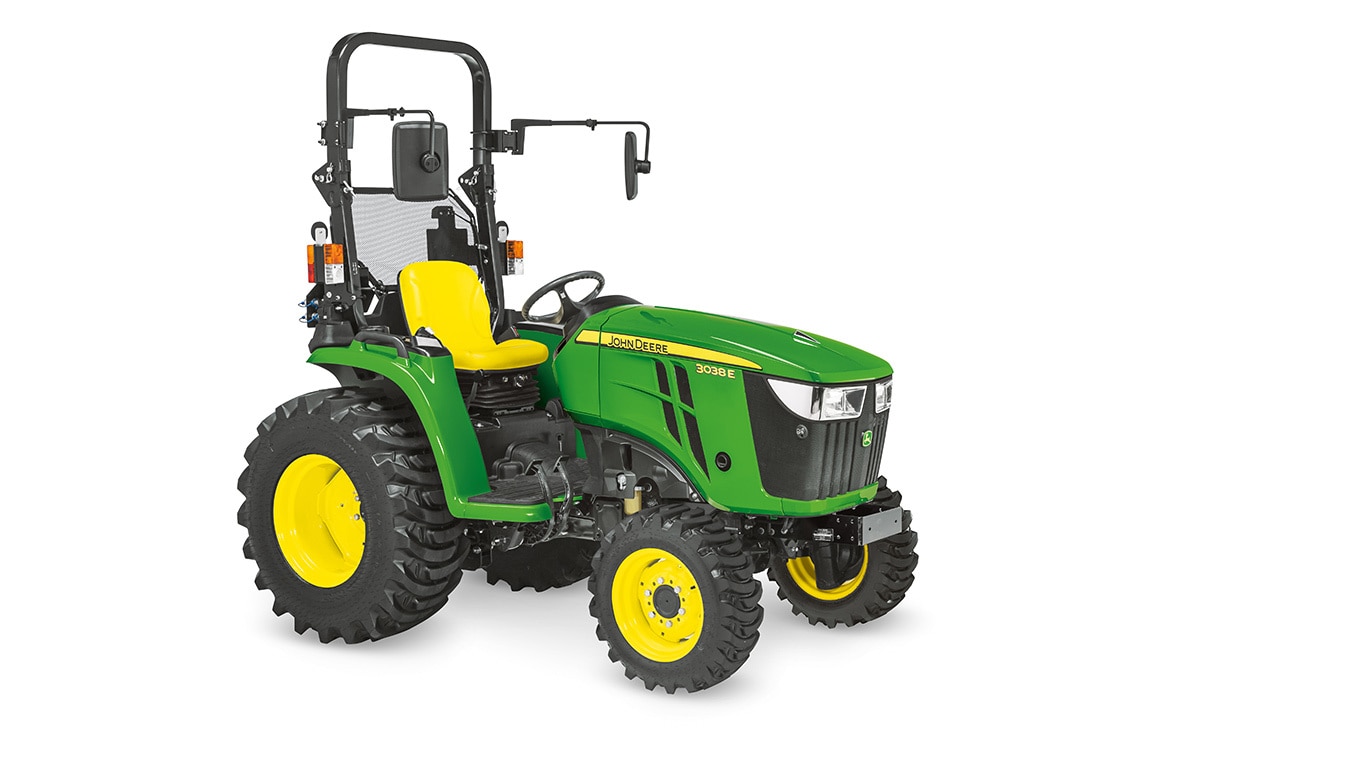 Standard four-wheel drive (4WD) for maximum traction
Hydro transmission with Twin Touch™ pedals for ease of use
On-board diagnostics including Service ADVISOR™
Category 1 3-pt hitch compatible with dozens of implements
Machine Features
Clean and simple operator station is comfortable and convenient
An uncluttered design gives operators of all sizes plenty of room to be comfortable. Color-coded controls are located on either side of the operator.
HST and brake pedals are designed and located for maximum comfort and ease of use.

Contoured, comfortable mid-back seat enhances operator comfort.

Seat position adjusts fore and aft

Seat flips forward for protection from the elements.

Flat operator platform provides for easy entry to/exit from the tractor.

Standard fixed Roll-Gard™ rollover protective structure (ROPS) and retractable seat belt increase operator safety.
Operator presence system:
If the operator leaves the seat when the tractor is in gear, the engine shuts down

If the operator leaves the seat when the power take-off (PTO) is engaged, the engine shuts down

Left-side step
The left-side step allows for easy access on and off the tractor.

Foot platform has a non-skid surface for sure footing.
Seat
The thick, soft padding on this seat provides a smooth and comfortable ride. A mid-height back makes it easier for the operator to turn to view rear implements while providing adequate back support:
Seat flips forward for protection from the elements.

Adjustable using the fore and aft lever located under the seat, the seat slides on ramped rails to provide comfortable access to all controls.
Instrumentation
Easy-to-read instrument panel includes the following:
Tachometer

Low oil pressure indicator light

Battery discharge indicator light

PTO engagement indicator light

Signal/hazard lamp indicator lights

Liquid crystal display (LCD) digital hourmeter display
Fuel gauge
All 3E Series Tractors come standard with a fuel gauge that is easy to read from the operator's station, to ensure operators do not run out of fuel.
Safety
Operator presence switch (OPS) in seat:
OPS requires the operator to be in the seat to operate the transmission or PTO.

ROPS is designed to meet or exceed American Society of Agricultural Engineers (ASAE) safety standards.

Reflective ROPS strips for better tractor visibility.

Seat belts are in base equipment on all John Deere compact utility tractors.

Key switch interlock prevents bypass starting.

Visual PTO warning light on the instrument panel alerts the operator when the PTO is running.

Turn signal and flashing warning lights operate according to ASAE standards.

Slow-moving vehicle (SMV) sign is provided for road transport.
Park brake
Automotive hand-style park brake for easy on/off.

Instrument panel has an indicator light for the park brake.
2-post Roll-Gard ROPS
3E Series Tractors are equipped with standard Roll-Gard ROPS. These non-folding ROPS meet the ASAE standards for compact utility tractors.
Overall height is 82.9 in. (R3 tire), 82.3 in. (R4 tires), and 83.3 in. (R1 tires), which allows producers to get their tractor into a garage with a standard 7-ft garage door.
NOTE: The use of seat belts is recommended at all times when operating the 3E Series Tractor with non-folding ROPS.
An optional canopy is available to help protect the operator from the elements.
Easy-to-use hydrostatic transmission (HST) increases tractor performance
The 3032E and 3038E Tractors are available with a two-range hydrostatic transmission (HST) incorporated in a die-cast aluminum transmission case. Fluid under pressure transmits engine power to the drive wheels via a closed-loop pump and motor arrangement. Infinite ground speeds allow the operator to match the speed of the tractor to the job
No clutching for fast and easy direction changes
Twin Touch™ foot pedals for quick and easy forward/reverse operation
Transmission oil cooler cools transmission oil for longer transmission life
Safety features of the HST transmission include:
The tractor will only start with the range lever in neutral

The engine will shut off if the operator leaves the seat unless the range lever is in neutral

The engine will shut off if the operator leaves the seat and the PTO is engaged
Twin Touch™ foot controls
Key John Deere advantage - John Deere's Twin Touch foot controls offer several key advantages over competitive HST models tractors.
Some competitive hydrostatic tractors use a treadle pedal (toe-heel) design foot control for operation of the HST

Requires the operator to use both toe and heel to change direction, resulting in increased operator fatigue

The Twin Touch configuration also makes it easier to "inch" tractor forward or rearward (i.e. when attaching to implements)
Optional cruise control
The 3E Series Tractors can be outfitted with an optional cruise control switch that is installed on the right hand control consol. This gives operators the ability to keep a constant speed when in transportation, field mowing, or other applications where extended use of the transmission is needed. This kit is very quick and easy to install for those who desire this feature.
Integrated hydrostatic pump and motor
Sauer-Danfoss® provides the integrated pump and motor; this assures that the components are matched to each other, providing maximum efficiency
Reduces powertrain shock loads
Provides strength and durability needed for operating such attachments as loaders
One reservoir (with one check point and fill point) for the transmission, differential, and hydraulic system speeds up daily maintenance
Mechanically actuated by Twin Touch foot pedals allow selecting both directions of travel and speed with the touch of a toe
Integrated brake and differential lock pedal
Foot-actuated differential lock is integrated into the brake pedal to simplify operator controls; the differential lock is included as base equipment to assist traction in tough spots

Press the brake pedal down half way to engage the differential lock that locks the rear axle for improved traction in tough spots
Sauer-Danfoss is a U.S.-registered trademark of Sauer-Danfoss Incorporated.
Transmission reservoir fluid checkpoint
Easy-to-reach transmission fluid dipstick allows for frequent checks of the transmission fluid level
Transmission fill point
Easy-to-reach transmission fill point (A) located on top of rear axles on the right-hand side.
Easily change PTO-driven implements with optional iMatch™ AutoHitch™
iMatch AutoHitch is the next generation of the successful iMatch Quick-Hitch that allows operators to hook up the power take-off (PTO) shaft of certain PTO-driven implements. This revolutionary system is the first of its kind, allowing you to change from a compatible rotary cutter to a compatible rotary tiller without leaving the seat of the tractor.

John Deere continues to lead the way with innovative designs that ensure you can quickly and easily change implements and attachments on the compact utility tractors with no tools and little experience needed.
Optional iMatch™ Quick-Hitch allows for easy implement hookup
One of the greatest operator concerns involves difficulty in attaching tractor implements. John Deere has addressed this issue with the iMatch Quick-Hitch.

The iMatch Quick-Hitch provides easy hookup and a guaranteed fit for all Category 1 implements designed to meet the ASAE Category 1 Standard S278.6 for quick-attach hitches.
All implements require a set of bushings in order for the attachment to fit and work properly with the iMatch Quick-Hitch. One set of bushings comes with the iMatch Quick-Hitch.
NOTE: In the above picture with the rotary cutter, the bushing set BW15056 is shown. These bushings allow the hooks on the iMatch and the pins on the rotary cutter to fit together properly. All other implements (box blades, tillers, rear blades, etc.) will require a set of bushings to enlarge the pin to fit with the iMatch hooks. Bushings of different lengths can be found in the parts system or through a bushing supplier (see dimensions below).
Upper bushing

Inside diameter: 1.93 cm to 1.96 cm (0.76 in. to 0.77 in.)

Outside diameter: 3.15 cm to 3.18 cm (1.24 in. to 1.25 in.)
Lower bushings

Inside diameter: 2.24 cm to 2.26 cm (0.88 in. to 0.89 in.)

Outside diameter: 3.63 cm to 3.66 cm (1.43 in. to 1.44 in.)
Powerful, diesel engine delivers plenty of power under heavy loads
The 1.5L displacement, turbocharged, liquid-cooled 3TNV84T Yanmar® diesel engine provides 37.1 horsepower to the 3038E. All Yanmar TNV series engines feature lower levels of exhaust emissions and reduced noise levels. The engines meet all current EPA requirements for Interim Tier 4 emission standards.
* As per 97/68/EC ISO @ rated speed.
Key features of the engine are:
Economical cast-in-block cylinder design for good cooling and long life
Direct fuel injection

Improves starting
Injects fuel directly on top of pistons for more efficient combustion
Develops more horsepower per gallon of fuel than indirect injection engines

Aluminum alloy pistons with built-in steel struts are lightweight to reduce connecting rod bearing loads and provide good heat transfer characteristics

Design permits tighter tolerances and neutralizes expansion of the piston, which reduces blow-by and noise from piston slap
Top rings are higher on the piston and a thinner head gasket is used to greatly reduce the volume of unburned waste gases and increase combustion efficiency

Auto-bleed fuel system

There is no need to prime the system if the tractor runs out of fuel
The system will self-prime the injection pump, lines and injectors, providing fast fuel recovery for easier starting

High-capacity lubrication system provides filtered oil, under pressure, to all engine bearings for long life
Key start and shutoff eliminates fuel shutoff knob

Electric solenoid shuts fuel supply off immediately when key is turned off, which replaces the need to pull a fuel shutoff lever like many older tractors

Water separator

See-through coolant recovery tank permits operator to check coolant level without removing radiator cap
Dry-type air cleaner with safety element

Dual element design for added engine protection
Easy to service

Hood can be easily opened without tools for full access to the engine
Horizontal exhaust

Discharges fumes away from the operator and reduces noise from engine
Improves operator visibility
Easy access to engine check and fill points on the right-hand side of the tractor by removing the tool-free side panels.

Yanmar is a U.S.-registered trademark of Yanmar Company Limited.
Optional two-spool rear selective control valve for superior implement performance
3E Series Tractors can be equipped with a field-installed rear hydraulic remote kit, providing two additional hydraulic spools on the back of the tractor. This kit can be field installed on a tractor with a loader or without a loader.
The functions are completely separate from the loader. These rear remotes can be hooked up to a wide variety of implements and attachments such as follows:
Hydraulically angled blade
Hydraulically controlled chute/spout on a 3-point hitch-mounted snow blower
Hydraulic scarifiers on a box blade
Many other hydraulic rear attachments
This versatile kit gives 3E Series Tractor operators the options they desire for putting their tractors into a wide range of tasks.
The first spool is equipped with a float position, giving the operator the ability to contour the landscape and improve the final grade with certain implements.
NOTE: Neither of the spools in this kit are equipped with a detent position; therefore, they should not be hooked up to anything with a motor, as the valve was not designed to be run open. It is designed for momentary, on-demand hydraulic flow such as moving a cylinder.

The approximate installation time is 1 hour to 1.5 hours.
Request a Quote
Error, ensure all information is entered
Your content has been submitted
Our Branches
Lot 10 York Road, Quairading, WA, 6383
PO Box 71, Quairading, WA, 6383
Quairading@Agimplements.com.au
2 Great Eastern Highway, Cunderdin WA 6407
2 Great Eastern Highway, Cunderdin WA 6407
Cunderdin@Agimplements.com.au
3 Shadbolt Street, Mukinbudin, WA, 6479
3 Shadbolt Street, Mukinbudin, WA, 6479
Mukinbudin@Agimplements.com.au
20 Yilgarn Avenue, Northam, 6401
PO Box 276, Northam, 6401
Northam@Agimplements.com.au
14 Latham Rd, Narembeen, WA, 6369
PO Box 303 Narembeen, WA, 6369
admin.narembeen@Agimplements.com.au
Lot 1474 East Barrack Street, Merredin WA 6415
PO Box 250, Merredin, WA 6415
admin.merredin@Agimplements.com.au
More Info
The information on this page is correct at time of publish and as per John Deere Aus. We reserve the right to change content at any time without prior notice. For more information please contact us.
November 19,2018 12:07:30 Central Standard Time
Related Products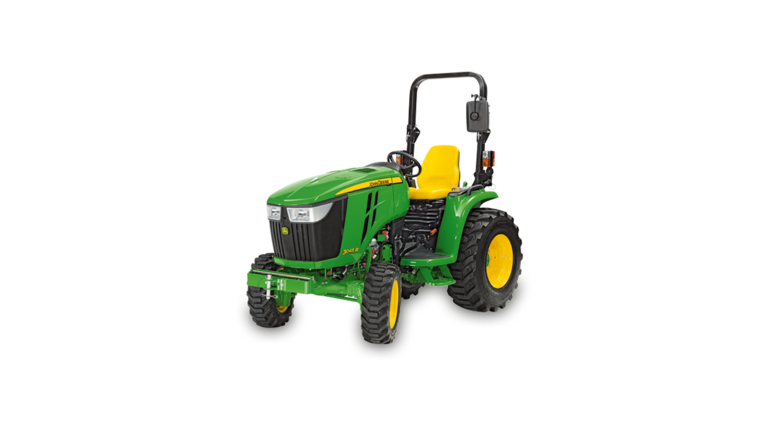 John Deere's 3045R Compact Utility Tractors include a whole suite of advanced features as standard.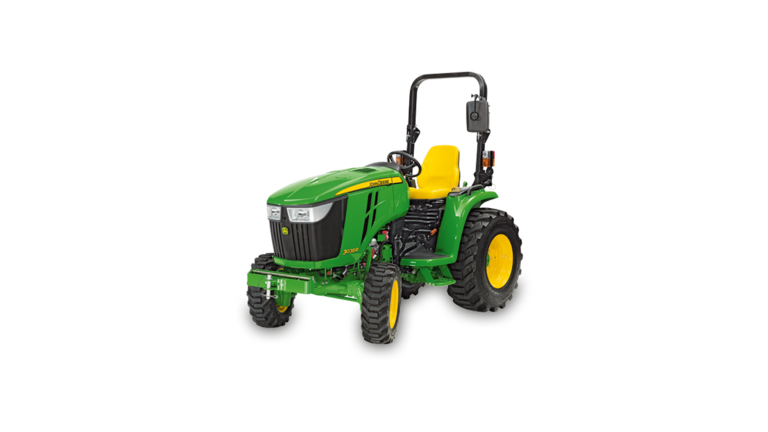 John Deere's 3038R Compact Utility Tractors include a whole suite of advanced features as standard.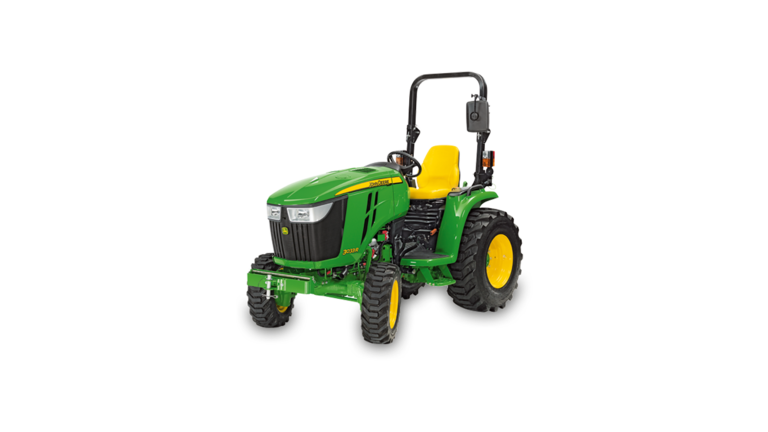 Building, mowing, digging, tilling - sunrise to sunset - it's all in a day's work for the 3033R Compact Utility Tractor.