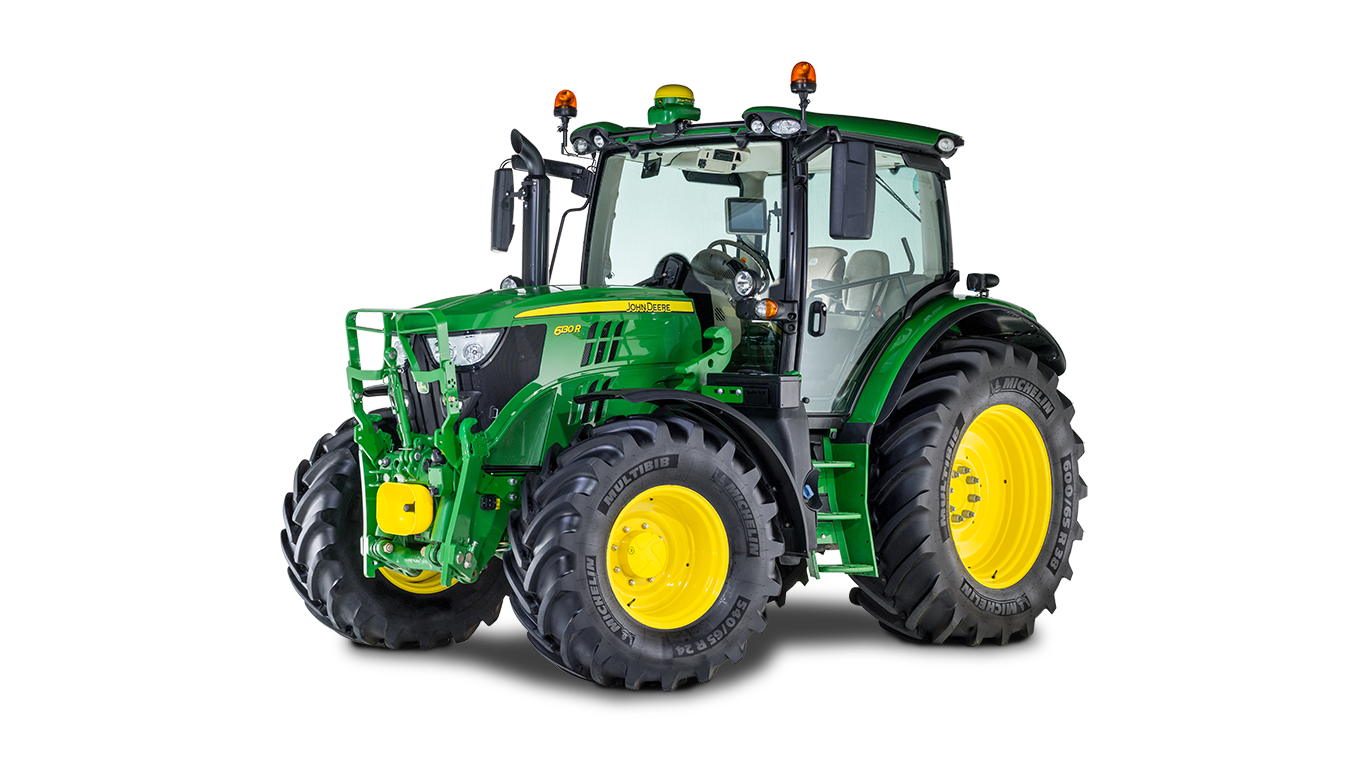 PowerTech™ 4.5 L PSS FT4 Engine
Category 3N three-point hitch
MFWD with optional TLS™ Plus
ComfortView™ Cab
Machine Features
Widest transmission portfolio
AutoQuad™ transmission
The AutoQuad transmission has all the benefits of the PowrQuad™ PLUS transmission with the added convenience of automatic gear shifting. It is available in 20F/20R and 24F/24R versions. With the EcoShift option, a transport speed of 40 km/h (25 mph) is maintained at only 1533 rpm, reducing fuel consumption and emissions.
PowrQuad PLUS transmission
There are two versions of the PowrQuad PLUS transmission, 20F/20R and 24F/24R. Availability depends on the tractor model. Both versions provide rapid shifting including speed matching when shifting between ranges. They are operated by a single-range lever with a de-clutch function and push-button gear selection. SoftShift technology keeps the changes smooth, even under load.
Enhanced AutoPowr™ transmission – Infinite speed adjustment in all situations
AutoPowr is a hydro-mechanical transmission delivering stepless and continuous power at speeds between 40 km/h and 50 km/h (25 mph and 31 mph). The AutoPowr transmission maintains the selected speed by automatically responding to changing load conditions. Once running at maximum road speed, engine rpm automatically drops to the minimum level required to maintain that speed, thus reducing noise and saving fuel. A speed of 50 km/h (31 mph) is maintained at 1630 rpm, and a speed of 40 km/h (25 mph) is maintained at 1300 rpm with the CommandPRO™ joystick.
DirectDrive transmission – The benchmark for seamless efficiency
Specifically developed for 6R Tractors, DirectDrive is an eight-speed, three-range transmission designed and engineered by John Deere for heavy agricultural work. Super-efficient dual-clutch technology always has the next gear lined up, so there is no lost momentum during changes, fuel consumption is reduced, and ease of operation is assured. During transport, DirectDrive reduces the engine speed to 1550 rpm at 40 km/h (25 mph) and 1600 rpm at 50 km/h (31 mph), thus reducing fuel consumption. In addition, the AutoClutch function enables you to stop the tractor without pressing the clutch.
The closed-centre, pressure-and-flow-compensated hydraulic system in the 6R Series has been engineered for maximum durability and reliability by optimizing the number of hydraulic components and connections, which also makes it extremely efficient. The system in the 6230R and 6250R models delivers a powerful 160 L/min (42.3 gpm) at 1,500 rpm with enhanced operating characteristics. Selective control valve (SCV) stack components have been clustered in a supremely user-friendly way, with up to six rear SCVs and power beyond couplers. Wide hitch rails allow generous clearance for power take-off (PTO) tasks, and the layout gives the operator an unobstructed view of the rear hitch and connecting points when manoeuvring for implement coupling.
The high power output of the John Deere 4-cylinder, 4.5L (274.6 cu in.) engine and the 6-cylinder, 6.8L (415 cu in.) engine is made possible by our refined, four-valve, high-pressure common rail (HPCR) technology with an injection pressure of up to 2500 bar (36,259.4 psi). The PVS engine in the 6175R, 6195R, and 6215R models is equipped with a variable geometry turbocharger (VGT) that boosts performance and efficiency consistently across the torque curve. The PSS engines (6230R and 6250R) use a two-stage turbocharging system in which the VGT multiplies the pressure created by a fixed vane turbocharger.
Smooth operator
The Triple-Link Suspension (TLS™) Plus system guarantees optimum traction and field performance, applying up to 10 percent more power to the ground. It also ensures higher operator comfort, reduces operator fatigue, and increases productivity, while the variable ratio steering improves in-field manoeuvrability. 6230R and 6250R Tractors further benefit from extra comfort and stability that comes with the longer 2900-mm (114.2-in.) wheelbase.
Adaptive front axle
The self-levelling TLS Plus suspension system automatically adjusts sensitivity and suspension rate and synchronises with hitch sensing to compensate for power hop under heavy pull conditions.
Variable ratio steering
Variable ratio steering improves operator comfort, requiring less hand movement and less steering effort when turning on the headland or in confined spaces. The resulting faster turning of the steering wheel increases hydraulic flow, leading to a quicker response from the tyres. The system can be activated or deactivated in the CommandCenter™ display and is available for all 6R Tractors except the 6155RH.
A commanding view
Ergonomic excellence, all-around visibility, and comfort are the hallmarks of the spacious ComfortView cab. All controls and machine/operator interfaces have been optimized for logical, intuitive use. All 6R Series Tractors are equipped with CommandARM™ controls and a Generation 4 CommandCenter™ Display with Bluetooth® wireless connectivity. The GreenStar™ 3 2630 Display can be mounted on either of the right-hand-side cornerposts. The sloping engine hood and excellent all-around visibility give operators an unrivalled overview of their surroundings. The optional panoramic roof expands the operator's field of vision, providing up to 30 percent more practical visibility when working with a front loader.
CommandARM controls and Generation 4 CommandCenter Display
The CommandARM, with its optional electronic reconfigurable joystick, provides a thoroughly intuitive operating interface. All the controls you need for daily work are available at your fingertips: selective control valves (SCVs), AutoTrac™ automatic steering, iTEC™ machine control, air conditioning, lights, radio, four-wheel drive (4WD), and hitch depth control. Mounted on the CommandARM, the Generation 4 CommandCenter display has easy-to-use, tablet-like swipe functionality and monitors everything you need for productive and efficient work.
CommandPRO™ joystick and Generation 4 CommandCenter Display
The CommandPRO joystick provides a thoroughly intuitive operating interface. All the controls you need for daily work are available at your fingertips: SCVs, AutoTrac automatic steering, iTEC machine control, air conditioning, lights, radio, 4WD, and hitch depth control. Mounted on the CommandARM, the Generation 4 CommandCenter display has easy-to-use, tablet-like swipe functionality and monitors everything you need for productive and efficient work.
Generation 4 CommandCenter Display with Extended Monitor
All 6R Tractors can be ordered with a secondary monitor mounted high on the A-post in operation with the 4600 CommandCenter Display.
The Gen 4 Extended Monitor delivers the ability to utilize an additional 25.4-cm (10–in.) monitor with the 4600 CommandCenter™ for viewing and adjusting multiple operational activities, such as a combination of planter run screens, guidance/coverage/as-applied map views, or Rate Controller settings.
Bluetooth is a trademark of Bluetooth SIG, Inc.
Automatic guidance – Make the most of your day
Accessing John Deere's automatic guidance solutions starts with the StarFire 6000 Receiver. Capabilities include better signal stability for maximum uptime and SF3 accuracy. This means the receiver always keeps you on track whatever the conditions are. With SF3, you get repeatable results – no guidance line or boundary drift – throughout one season. The StarFire 6000 Receiver works seamlessly with all John Deere guidance systems and all accuracy levels (SF1, SF3, Mobile RTK and Radio RTK).
iTEC™ Pro
Intelligent Total Equipment Control integrates AutoTrac™ automatic steering and implement management systems to control tractor speed, front and rear mounted implements, and differential lock engagement, among other parameters. This allows for hands-free turns while reducing soil compaction, resulting in picture-perfect headlands and consistent crop growth.
Manure sensing
The near infrared sensor, as utilized by the John Deere forage harvester (HarvestLab™ sensor) and fitted to the slurry tanker, measures nitrogen, phosphorus, potassium, ammonium (NH4), volume, and dry matter on the go with more than 4000 measurements a second. With a 6R Series Tractor featuring the AutoPowr™ transmission, the sensor can directly command speed adjustment to the tractor on adjust application rates based on your desired nutrient target level and even leverage a prescription map. This enables you to maximise yields and meet legal requirements while cutting costs on mineral fertilizer.
JDLink™ system
JDLink shows where machines are, what they are doing, and how they are performing. You or your dealer can remotely assist operators with machine setup and operation leveraging Remote Display Access (RDA). JDLink Connect additionally includes Wireless Data Transfer (WDT) for seamless data exchange between the machine and the office.
Job management made easy
Eliminate paperwork and endless phone calls during job planning, execution, and reporting. With the MyJobConnect™ application, you can assign clearly defined tasks to your operators on the go, utilising the MyJobsManager app. Your operators can view work orders in real time and execute accordingly utilising the MyJobs™ app on their mobile device. Once the job is done, you have instantly accurate and complete data at hand for quicker job reporting and professional invoicing.
Operations Center
Go to the Operations Center to allocate exact field locations for the next jobs, track the work progress of your machines, easily assign work orders to operators, view as-applied maps automatically sent from the field, and create, analyse, and share application reports with trusted partners and customers.
Connectivity inside packages
With the 6R Tractor, you have a machine equipped with smart technologies that help increase profitability, comfort, and uptime while reducing cost of operation*:
4600 CommandCenter Display with CommandCenter AutoTrac or CommandCenter Premium activations
5-year JDLink subscription
Access to the Operations Center on MyJohnDeere.com
Tractor-Implement Automation
MyJobConnect or MyJobConnect Premium
All of the above plus a FarmSight™ dealer service package to train and support you with the use of these technologies is what John Deere has to offer for those that decide to go for connectivity inside.
*NOTE: Elements of the connectivity packages are a limited promotional offer and include time-based subscriptions.
Intelligent Ag navigation and fleet logistics
Getting the right equipment to the right place at the right time is key to maximising efficiency and timeliness of multi-machine operations. MyJobConnect Premium extends MyJobConnect to a true mixed-fleet logistics solution. It features fleet overview and turn-by-turn navigation based on a comprehensive field road database, including estimated arrival times for vehicles at the predefined destination. For example, setting up navigation to the lead machine enables silage trailers to take the fastest and safest way to the forage harvester and updates the tour of all fleet members as soon as the machine is moving to the next field.
Request a Quote
Error, ensure all information is entered
Your content has been submitted
Our Branches
Lot 10 York Road, Quairading, WA, 6383
PO Box 71, Quairading, WA, 6383
Quairading@Agimplements.com.au
2 Great Eastern Highway, Cunderdin WA 6407
2 Great Eastern Highway, Cunderdin WA 6407
Cunderdin@Agimplements.com.au
3 Shadbolt Street, Mukinbudin, WA, 6479
3 Shadbolt Street, Mukinbudin, WA, 6479
Mukinbudin@Agimplements.com.au
20 Yilgarn Avenue, Northam, 6401
PO Box 276, Northam, 6401
Northam@Agimplements.com.au
14 Latham Rd, Narembeen, WA, 6369
PO Box 303 Narembeen, WA, 6369
Narembeen@Agimplements.com.au
Lot 1474 East Barrack Street, Merredin WA 6415
PO Box 250, Merredin, WA 6415
admin.merredin@Agimplements.com.au
More Info
The information on this page is correct at time of publish and as per John Deere Aus. We reserve the right to change content at any time without prior notice. For more information please contact us.
October 11,2018 07:36:31 Central Daylight Time
Related Products