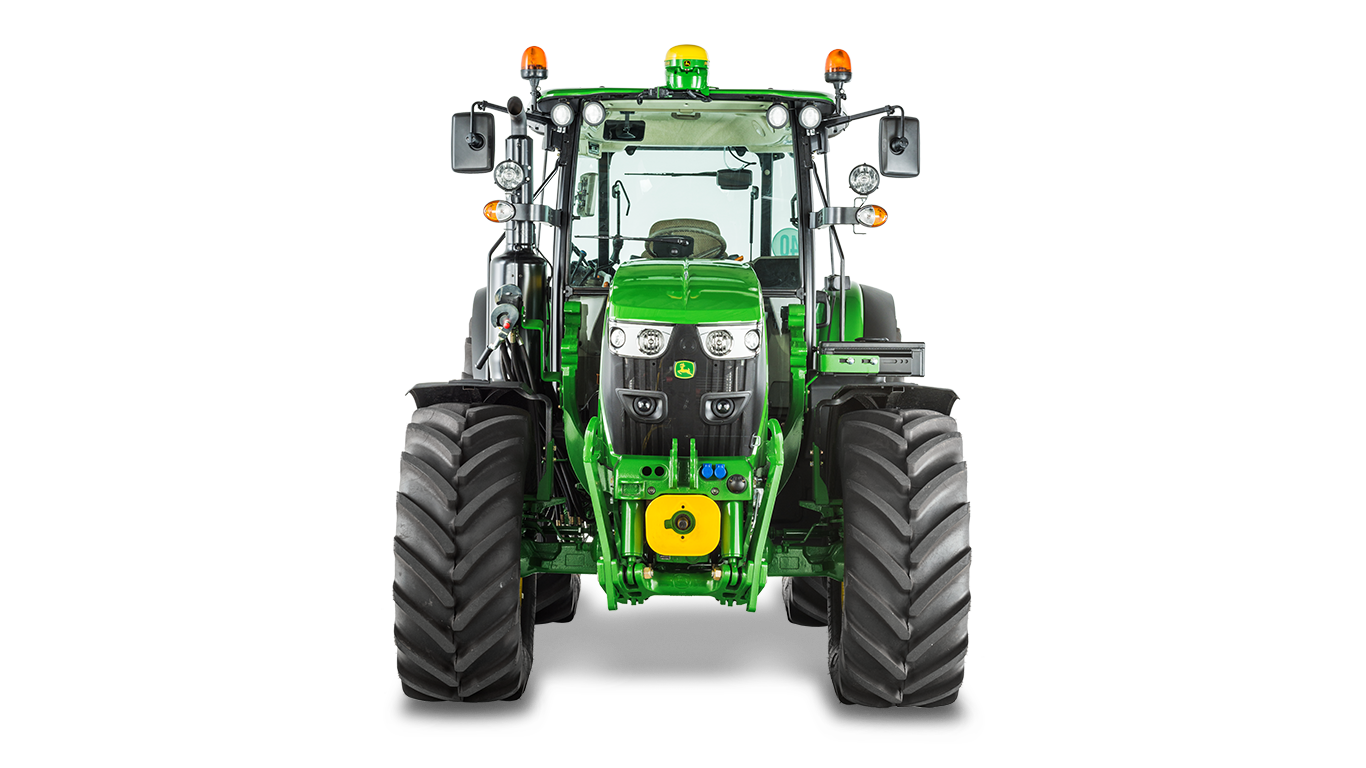 PowerTech™ PWS 4.5 L Diesel
Category 2, 3N 3-point-hitch
2WD/MWFD with optional TLS™
Premium Cab with integrated Roll-Gard™
Machine Features
6MC and 6RC Tractors are based on one frame size with 2400-mm (94.4-in.) wheelbase.
Strong steel frame has been a John Deere industry exclusive since 1992:
Unique solution achieves higher payloads without increasing tractor weight
Bridge-type frame provides superior structural strength and allows compact modular construction of transmission units
Full frame carries the load while the powertrain transmits engine power to the final drive
Larger implements and heavier loads can be accommodated, resulting in higher levels of productivity
Improved serviceability
Complete modular component replacement is allowed without splitting the tractor in half
Frame mounting allows easier component servicing without disturbing other systems
Pressure- and flow-compensated system (PFC), 80 L/min (21.1 gpm) and 114 L/min (30.1 gpm)
6RC Series Tractors offer a closed-center, pressure-and-flow-compensated (PFC) hydraulic system with 80 L/min (21 gpm) of flow to the remotes up to 200 bar (2900 psi) of variable working pressure. If a higher flow is required, a bigger pump with 114 L/min (30.1 gpm) is available in base equipment.
The hydraulic system is load sensing, which means a valve on the pump immediately initiates pump flow when required. When flow is no longer required, the pump returns to low-pressure, no-flow standby mode.
Advantages of this system:
Reduced load on engine
Improved fuel efficiency
Enhanced oil cooling
Reduced internal leakage
Reduced hydraulic noise levels
Less strain on hoses and seals
Pressure for the entire system is established by the function requiring the highest pressure. As demand lessens, so does hydraulic pump pressure and engine power requirements.

Other hydraulic system advantages include:
Mechanical-controlled valves
Hydraulic steering for effortless operation
Hydraulic wet-disc brakes that provide an excellent brake performance
Three-point hitch with increased lift capacity that can handle the heaviest implements

High-capacity hydraulic pump

The hydraulic pump is located close to the hitch valve and selective control valves, allowing:
Fewer and shorter lines
Quick system response times
Minimized energy losses

Essential services have priority

The priority valve ensures, even at low idle engine speed, full power to the essential services like:
Steering
Brakes
Hydraulic trailer brakes, if equipped
Hydraulic and transmission systems are functionally separate; however, both systems utilize a common reservoir for easy serviceability.

Oil takeout capacity with/without additional tank

With PFC hydraulic system, an extra 12-L (3.2-gal.) oil reservoir is available to increase the oil withdrawal capacity of the hydraulic system. This permanently allows the optimum oil level of all drive components with advantages for durability and efficiency.
Intelligent Power Management (IPM) for transport and PTO applications
The IPM feature for 6RC Tractors is used for many typical farming operations that use the rear power take-off (PTO) in high-power applications, or when the tractor is used as a transport vehicle. Producers looking for more power in non-stationary PTO and transport applications will take full advantage of this feature.

In high PTO power applications or where heavy trailers, carts, or implements are moved to various locations, this feature provides significant additional capabilities:
Improved productivity
Quicker acceleration
Better holding of desired transport speeds
Tractor applications
How it works
There are specific operating parameters when the Intelligent Power Management system is activated to boost engine power. It is the intelligent part of the system that provides seamless operation while adjusting the engine horsepower, depending on how the tractor is being used.

For engine-horsepower boost activation, the tractor must already be running an application that is using the full power capability of the tractor.
PTO activation
Operational conditions for activation:
Power must be sensed going through the PTO drive clutch by the tractor electronic systems.
The tractor must be moving faster than 1 km/h (0.62 mph). Then gradual stepless performance ramp up starts. At 2,5 km/h (1.6 mph) full IPM power is available.
Engine rpm needs to be at least 70 percent of rated speed
NOTE: If the tractor is equipped with a front PTO, additional Intelligent Power Management power will transfer through the front PTO. However, Intelligent Power Management activation is only sensed through the rear PTO. Adequate load must be sensed on the rear PTO in order to activate Intelligent Power Management.
Transport activation
During transport applications with IPM the engine responds seamlessly as load changes, such as when going up and down hills.

Operational conditions for activation:
Engine rpm at least 70 percent of rated speed
Tractor operation speed 15 km/h (9.3 mph), gradual stepless performance ramp up starts
At 20 km/h (12.4 mph), full increased rated engine performance available
Power boost levels other than at rated rpm
Some operators will run the tractor at full loads and/or run transmissions in auto mode in transport. This means the engine most likely will not be operating at rated rpm. As the engine is loaded, it will eventually drop off of rated rpm and use the power bulge as rpm slows. This is the way every John Deere PowerTech™ Plus engine operates when loaded to maximum power and torque.

Intelligent Power Management provides additional engine horsepower from rated engine speed down to approximately 1300 rpm.

Horsepower levels are increased above base equipment power bulge values.

If the PTO is engaged and the engine rpm stays near the rated speed of 2100 rpm, the full additional power potential for the tractor model will be available for use to handle additional load from the implement or changing terrain.

If the PTO is not in use and in transport operation and the rpm has dropped off of rated speed, usable additional power boost of Intelligent Power Management will taper off as rpm decreases.
Tractor compatibility with additional power
Intelligent Power Management has been thoroughly tested by John Deere engineers to be compatible with the tractor's base equipment with no impact to reliability. John Deere provides Intelligent Power Management as opposed to unapproved aftermarket devices that boost power without regard to engine, transmission, axles, drawbar, or hitch capability.

This feature provides optimal utilization of tractor components. For example, with PTO operation, power goes through the axles to move the tractor along the ground and turn the PTO shaft and implement.

Adding power to both of these systems does not overload either one individually. At transport speeds, drivetrain torque load decreases significantly from levels seen at low field speeds. Adding power at transport does not overload transmissions or axles.

Aftermarket devices are not selective when power increases are available. Great amounts of power increase are promised with these devices. Large power changes are not compatible with the tractor's base equipment.

NOTE: The tractor's base equipment changes as power increases. Larger parts, like hitches, drawbars, tire size, drivetrain components, axle diameters, and engine calibrations for emission performance and cooling, ensure durability of the total vehicle as power increases. Operating outside of the design capabilities of the tractor's base equipment will have an impact on durability and reliability.
Common transmission features
John Deere transmissions combine power-saving technology with well-proven design features to ensure:
Reliability
High efficiency
Low noise
Convenient operation
Low service costs
For the 6MC – 6RC Series Tractors, the following basic transmissions are available:
| | | | |
| --- | --- | --- | --- |
| Transmission | Speed | 6MC | 6RC |
| PowrQuad Plus | 30 km/h (18.6 mph) | 16/16 | Not applicable |
| PowrQuad Plus | 38 km/h (23.6 mph) | 16/16 | Not applicable |
| PowrQuad Plus | 40 km/h (24.9 mph) | 24/24 | Not applicable |
| AutoQuad Plus | 40 km/h (24.9 mph) | 24/24 | Not applicable |
| AutoQuad Plus Eco | 40 km/h (24.9 mph) | 24/24 | Not applicable |
| CommandQuad Plus | 40 km/h (24.9 mph) | Not applicable | 24/24 |
| CommandQuad Plus Eco | 40 km/h (24.9 mph) | Not applicable | 24/24 |
Modular concept

The full frame is designed to withstand heavy load and twisting applications, which allows the transmission and engine to be modular designed instead of being an integral part of the frame.

Since the transmission is not used as a structural member, there is greater flexibility in manufacturing processes for integrating options such as a creeper or mechanical front-wheel drive (MFWD).
Differential housing
Range module
Option module (creeper)
PowrQuad module (or PowrReverser and PermaClutch™ 2 clutch)
MFWD - clutch module
Power take-off (PTO) module
Three large clutch disks provide optimum clutch modulation for smooth operation, and the disks are oil-cooled for a lifetime of service. The PermaClutch 2 is especially suited to tough tractor applications, such as continuous front loader operations or other applications involving a large number of shuttle shifts.

Helical cut gears
The helical cut gears provide large-tooth contact for greater torque-transmitting capability and quieter operation.

Pressure lubrication
The pressurized lubrication system delivers cooled and filtered oil under all conditions. A warning light alerts the operator if oil pressure drops, preventing damage to the transmission.

Console shifting
All gear shift levers are conveniently located on the right-hand console. Easy-to-use shift pattern allows precise shifting without confusion.


Code
Description
Information
Availability
1436
PowrQuad Plus - 24/24, 40 km/h
Includes left-hand reverser
6MC models
1437
PowrQuad Plus - 16/16, 30 km/h
6MC models
1438
PowrQuad Plus - 16/16, 38 km/h
6MC models
1440
PowrQuad Plus - 24/24, 40 km/h, with creeper
6MC models
1441
PowrQuad Plus - 16/16, 30 km/h, with creeper
6MC models
1442
PowrQuad Plus - 16/16, 38 km/h, with creeper
6MC models
1454
AutoQuad Plus - 24/24, 40 km/h
6MC models
1458
AutoQuad Plus - 24/24, 40 km/h, with creeper
6MC models
1462
AutoQuad Plus Ecoshift - 24/24, 40 km/h
6MC models
1464
AutoQuad Plus Ecoshift - 24/24, 40 km/h, with creeper
6MC models
1500
CommandQuad Plus - 24/24, 40 km/h
6RC models
1502
CommandQuad Plus Ecoshift -24/24, 40 km/h
6RC models
| | |
| --- | --- |
| Attachment | Description |
| BL15625 | Creeper, PowrQuad Plus 4 range 30/40K |
| BL15623 | Creeper, PowrQuad Plus 6 range |
| BL15624 | Creeper, PowrQuad Plus 6 range |
| BL15708 | Creeper module |
| BL15709 | Creeper module |
| BL15702 | Creeper assembly parts, EPQT |
| BL15406 | Shift components for creeper |
| BL15714 | Shift components for creeper |
| BL15715 | Shift components for creeper |
| BL15707 | Countershaft |
| BL15706 | Countershaft |
| BL15711 | Oil lines, PQT |
| BL15547 | TOC lines, PQT |
For tractor specific attachment number please view John Deere Configurator.
The 6MC and 6RC Series Cab Tractors provide room and great visibility, making row-crop and loader work easier while keeping the operator comfortable. These cab tractors combine form and functionality with easy, uncluttered access to all tractor and implement controls.

With low in-cab noise the cab provides a comfortable working environment in all conditions for those long days. 320 degrees of visibility from within the cab ensures accurate tractor placement, implement hookup, and optimal tractor performance.
Key features

Integrated Roll-Gard™ structure
Power outlet socket three pole
Pressure compensated system (PC) 80 L/min (21.1 gpm)
6MC Series Tractors feature a John Deere-designed, open-center, constant-flow pressure compensated (PC) hydraulic system with variable pressure up to full pressure of 200 bar (2900 psi).
Differences between PC and PFC system
There are two different hydraulic systems available.
The PC system offers a gear–type pump and is based on a continuous oil flow. The flow is always at maximum, regardless of the need of the tractor or the implement. The pressure can vary depending on the settings of pressure regulating valves, but the maximum flow is generated by the gear-type pump, which has a direct influence on the engine efficiency.
The pressure-and-flow compensated (PFC) system has a consumption–based hydraulic pump, which is a piston pump. When no hydraulic consumers are connected, the pump works in a reduced stand-by flow. If the tractor or its implement needs more hydraulic power, the pump starts to increase flow or pressure. The oil flow and oil pressure depend on the demand, this makes the pump extremely efficient. This system has a positive influence on the whole efficiency of the tractor because the hydraulic power is only provided when it is needed.
Legend of the diagrams:
No hydraulic users
Mid hydraulic demand
Maximum hydraulic demand
Request a Quote
Error, ensure all information is entered
Your content has been submitted
Our Branches
Lot 10 York Road, Quairading, WA, 6383
PO Box 71, Quairading, WA, 6383
Quairading@Agimplements.com.au
2 Great Eastern Highway, Cunderdin WA 6407
2 Great Eastern Highway, Cunderdin WA 6407
Cunderdin@Agimplements.com.au
3 Shadbolt Street, Mukinbudin, WA, 6479
3 Shadbolt Street, Mukinbudin, WA, 6479
Mukinbudin@Agimplements.com.au
20 Yilgarn Avenue, Northam, 6401
PO Box 276, Northam, 6401
Northam@Agimplements.com.au
14 Latham Rd, Narembeen, WA, 6369
PO Box 303 Narembeen, WA, 6369
Narembeen@Agimplements.com.au
Lot 1474 East Barrack Street, Merredin WA 6415
PO Box 250, Merredin, WA 6415
admin.merredin@Agimplements.com.au
More Info
The information on this page is correct at time of publish and as per John Deere Aus. We reserve the right to change content at any time without prior notice. For more information please contact us.
October 11,2018 07:36:24 Central Daylight Time
Related Products