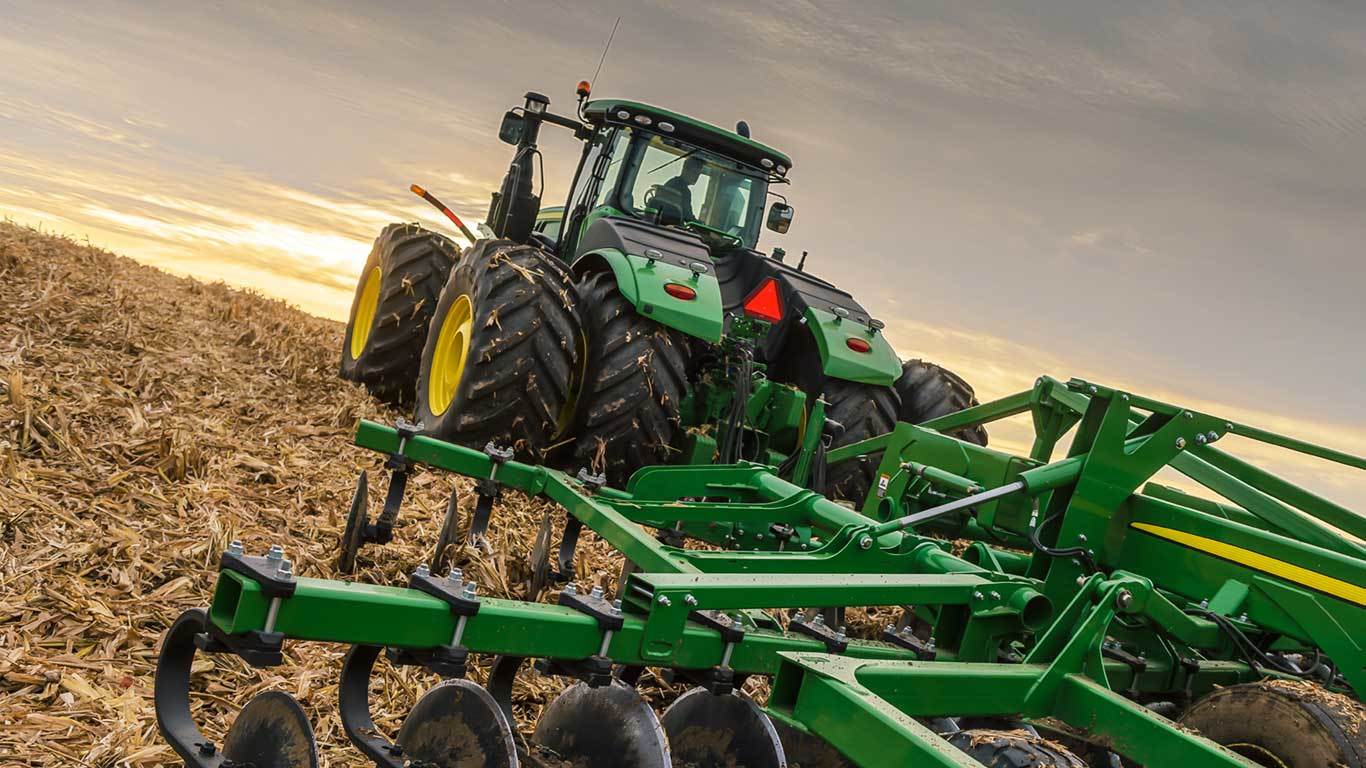 John Deere PowerTech™ 13.5 L engine
e18™ PowerShift Transmission
CommandView™ III cab
Machine Features
Power take-off (PTO), 1-3/4 1000 rpm
Fully independent 1000-rpm PTO is available as a factory- or field-installed option.
Available on all 9 Family Ag Tractors.
Full-power capability for maximum utilization*
4.45-cm (1-3/4-in.) diameter shaft.
* 9 Family Tractors derate PTO hp when tractor is stationary.
9R – When the PTO is on and ground speed is 0.5km/h (0.31 mph) or less; PTO is limited to 335 hp.
9RT – When the PTO is on and ground speed is 0.5km/h (0.31 mph) or less; PTO is limited to 329 hp.
9RX – When the PTO is on and ground speed is 0.5km/h (0.31 mph) or less; PTO is limited to 335 hp.
See the specs page for model rated PTO horsepower.
The PTO shield has three positions — neutral, up, and down. Use the neutral position when the PTO is connected and ready for use. Use the up position for added clearance when connecting the PTO shaft to the tractor. The down position is used when the PTO is not connected and extra visibility to the drawbar is desired.
Electrohydraulic PTO control
The 9 Family Tractors utilizes an electrohydraulic PTO-engagement switch to activate the optional 1000-rpm PTO.
If PTO option is not installed, a storage compartment is located on the rear of the tractor.
3-point hitch and CommandCenter™ controls boost productivity
3-point hitch
The 9 Family Tractors are designed to maximize performance for different applications. The 9R, 9RT, and 9RX Series Tractors offer two different hitch options:
9370R

9420R/9420RX

9470R/9470RT/9470RX

9520R/9520RT/9520RX

9570R/9570RT/9570RX

9620R/9620RX

Category 4N/3 with quik-coupler, all axle diameters

Optional – 6804 kg (15,000 lb)

Not available

Category 4N/3 with quik-coupler, 120-mm (4.7-in.) axles required

Optional – 9072 kg (20,000 lb)

Not available

Category 4/4N with quik-coupler, all diameters axles

Optional: 6804 kg (15,000 lb)

Category 4/4N with quik-coupler, 120-mm (4.7-in.) axle required

Optional: 9072 kg (20,000 lb)
CommandARM™ controls
To help boost productivity, a field-installed kit with 3-point hitch controls can be purchased. If this option is selected, control buttons will be located on the 9 Family Tractor's CommmandARM to access individual hitch settings. There are three buttons — set, lock, and load depth. There is also a rotary encoder that allows for finite movements of the hitch. The rotary encoder is detented, so it clicks for each movement. Additionally, hitch adjustment controls are located under the CommandARM for raise/lower rate.
Hitch load depth
The load depth feature is a useful tool designed to increase performance in tillage applications. Load depth adjustments allow the operator to make adjustments to hitch draft responsiveness.
Draft control helps maintain the operating depth in varying conditions, such as rolling terrain, and varying soil densities.
An additional feature with load depth control is the hitch slip option. Hitch slip uses wheel slip data to supplement the draft control system. If the wheels slip, the 3-point hitch lifts to allow the tractor wheels to maintain traction with the ground. Once the slip condition is no longer present, the hitch lowers to the required depth as determined by the hitch command and load depth settings.
Both of these hitch command options are easily programmable in the CommandCenter display by pressing the load depth shortcut key, followed by using the thumbwheel and confirm key to dial in the desired settings.
Hitch, external remote control switch
For added operator convenience, a 3-point hitch remote control switch is located on top of the left rear fender for 9R, 9RT, and 9RX Tractors. The external remote switches enable the operator to raise and lower the 3-point hitch from behind the tractor while hooking to implements.
Standard CommandView™ III cab offers unsurpassed amenities
The standard CommandView III cab offers unsurpassed visibility, operator comfort, control placement, and ride and sound quality.

Features:
ComfortCommand™ seat with air suspension, lumbar support, swivel, fore-aft and lateral attenuation, backrest angle adjustment, adjustable left-hand armrest, and 40-degree right-hand seat swivel
Operator presence system that warns if the operator is out of the seat while operating key functions
Folding instructional seat
CommandARM™ with integrated controls
4100 or 4600 Generation 4 CommandCenter™
Behind-the-seat storage
Left-hand storage compartment
Passive noise reduction system
Service ADVISOR™ data port
Tilt/telescoping steering wheel with position memory
Swing-out rear window, opens 30 degrees
Right- and left-outside mirrors (manually adjustable mirror head)
Monitor mounts on right-hand front post and rear cab post
Standard radio package, including AM/FM stereo and weatherband with remote controls, auxiliary input jack, four speakers, and an external antenna
Laminated glass
Air conditioner and heater with automatic temperature controls (ATC)
Three 12-V convenience outlet (cigarette lighter style)
Two 12-V 3-pin outlet with adapter (provides switched and unswitched power)
One International Organization for Standardization (ISO) 9-pin connector
Power strip with convenience plug adapter
Hitch control lever lock and selective control lever lock
Two-speed and intermittent front and rear wiper with washer
Front pull-down sunshade
Digital cornerpost display with:

Fuel level gauge, including low fuel warning
Temperature gauge
Diesel exhaust fluid (DEF) gauge, including low DEF warning
Engine rpm
Transmission commanded gear or speed
Vehicle system functions, such as iTEC™, that are operating

Inside-mounted rearview mirror
Beverage holders sized to accommodate various containers
Interior lighting, including left-hand dome light, right-hand adjustable map light, and right-hand courtesy light

ComfortCommand seat
ComfortCommand seat improves ride quality and helps to reduce operator fatigue

Features include:
Armrests, lumbar support, and backrest angle are easily adjusted to match operator preference.
Shock absorbers dampen the motion effect of the tractor for an improved ride.
Seat height adjustments are conveniently located on the left armrest.
Fore-aft adjustment is easy to reach located on the left front of the seat.
Swivel adjustment, located on the front of the seat, allows the seat to be swiveled 40 degrees to the right or eight degrees to the left of the center position.
Operator presence switch warns if the operator is out of the seat while operating key functions.
Seat belt retractor.
Centered cab seat, providing excellent over-shoulder visibility.
Adjustable shock absorber permitting ride adjustment from soft to firm to match the operator's desired comfort level.
Removable cushions for easy cleaning.
Hydraulic controls
Hydraulic controls utilize fingertip paddle pods for raise/lower and extend/retract functions.
Throttle

The throttle design incorporates buttons which control FieldCruise speed, and transmission eco settings.
CommandCenter
The Generation 4 CommandCenters feature fast adjustment of tractor functions and controls and are integrated into the CommandARM to create a seamless control center.

The following functions can be adjusted and accessed using the CommandCenter display:
Hydraulic settings
Hitch settings
Transmission settings
FieldCruise
iTEC programming functions
Radio
Lights
Add all functionality – diagnostics, display settings, etc.
The Generation 4 CommandCenters have the capability of Remote Display Access (RDA). RDA allows improved communication between an offsite farm manager or dealer and the equipment operator. The user can view exactly what the operator sees on the GS3 2630 Display and Generation 4 CommandCenter from almost any Internet-connected device. RDA is available on the 4600 and 4100 CommandCenter RDA allows for an increase in productivity with quicker problem resolution. By using RDA, the cost of operation will decrease due to reduced labor and travel costs, and maximum efficiency will increase profit.
CommandARM
John Deere 9R/9RT Series Tractors feature the CommandARM with integrated Generation 4 CommandCenter display. The control layout of the CommandARM utilizes a clean and efficient design which groups controls by function and builds upon John Deere's history of intuitive and ergonomic control placement and operation. The CommandARM's design allows for a 40 degree right seat swivel and adjustable positioning matching the operator's preference.

Controls located on the CommandARM include:
Engine throttle
Transmission control for e18™ speed PowerShift transmission (PST)
Eco mode for e18 speed PowerShift transmission (PST)
FieldCruise™
Selective control valve (SCV) controls
AutoLoad™ controls (if equipped)
Differential lock on/off and automatic
iTEC™ sequence switches
AutoTrac™-assisted steering system resume switch (if equipped)
Radio
Beacon light on/off
Hazard lights on/off
Field lights 1/2
Heating, ventilation, air-conditioning (HVAC) system
Tractor function controls

Located just to the right of the throttle is the Auto-Trac-activation button and four sequence controls for iTEC functions. Behind the iTEC sequence controls there are buttons which control the activation and deactivation of differential lock. Differential lock can also be activated by the foot switch on the cab floor.
Controls for radio, lights, rotary beacon (if equipped), hazard flashers, and HVAC system are located to the center-right on the CommandARM, along with power take-off (PTO) for rear PTO.
Seat swivel

The design of the CommandARM allows for up to 40 degrees of right-hand seat swivel.
PowerTech™ PSS cooled exhaust gas recirculation (EGR)
The John Deere exhaust filter is integrated into the engine design and
electronics to provide a seamless operator experience. The engine
control unit (ECU) and exhaust temperature management (ETM)
system work together to continuously regenerate the exhaust filter
using a natural cleaning process sometimes referred to as passive
regeneration. If natural filter cleaning cannot be achieved based
on temperature, load, and speed, then particulate matter (PM) must be removed using
an automatic cleaning process sometimes referred to as active
regeneration. In most cases, filter cleaning does not impact machine
operation or require operator involvement. Higher pressures created
by our Final Tier 4 (FT4)/Stage IV high-pressure fuel system extend intervals
between automatic cleanings.

How EGR works

EGR reduces the high temperatures where nitrogen oxide (NOx) compounds are formed in the engine cylinders by replacing excess oxygen with a prescribed amount of cooled exhaust gas.

Exhaust gases contain more carbon dioxide than oxygen. The EGR valve, in conjunction with the venturi and ECU, allows a controlled amount of exhaust gas to enter the intake manifold to mix with the incoming fresh air. Replacing excess oxygen with cooled exhaust gas leads to lower combustion temperatures, creating less NOx. In addition, EGR allows for advanced timing, leading to optimal performance of the engine, maximizing fuel economy.

The following diagrams illustrate how air flows through the engine.

For added performance and efficiency, the engine passes the exhaust gases through an EGR cooler before it enters the engine.

Flow of exhaust during engine operation

Exhaust airflow enters into the EGR cooler from the exhaust manifold near the turbocharger.

Based on engine load, air temperatures, and rpm, the ECU opens or closes the EGR valve, allowing a measured percentage of exhaust gas to enter the intake manifold.

The gases mix with the rest of the incoming air from the turbocharger and aftercooler before entering the cylinders.

The following diagrams illustrate how air flows through the engine (PSS).

For added performance and efficiency, the engine passes the exhaust gases through an EGR cooler before it enters the engine.
PSS 9.0L and 13.5L FT4 technology
High-flow hydraulics, 435 L/min (115 gpm) system
Dual hydraulic pump system
Optional high-flow hydraulics are available on 9 Family Tractors by ordering code 3270. The high-flow hydraulic system provides an additional 215 L/ min (57 gpm) of flow for a total of 435 L/ min (115 gpm). This system is ideal for hydraulic fan motor demands. This system is recommended for agricultural implements with continuous flow requirements. When maximum hydraulic pump capacity is reached, multiple functions will continue to operate at the same proportional flow rate.

The 9 Family Ag High-Flow Tractors have two parallel hydraulic systems. The benefit of this system is that functions can be split between the two systems. Functions that require high flow and low pressure can be combined on one system (for example, air seeder fans, and planter motors). Functions that require high pressure and low-flow can be connected to the remaining system (for example, implement lift, fold, and constant down-pressure systems).

Following these guidelines allows the hydraulic system to run cooler as it prevents both hydraulic pumps from running at high pressure. In general, pumps forced to run at both high pressure and high flows generate much more heat than a pump running at a lower flow or lower pressure.

The system operates with two hydraulic pumps:
Pump 1 - provides hydraulic flow of up to 215 L/min (58 gpm) to SCVs 1, 2, and 3. These SCVs are useful for operating lift/lower and other cylinder type hydraulic needs.
Pump 2 - attaches in front of pump 1 and provides hydraulic flow of up to 215 L/min (57 gpm) to SCVs 4, 5, and 6. These SCVs are useful for operating hydraulic motors to drive air/fan or vacuum systems on seeding/planting equipment.
All SCV oil returns to one common hydraulic reservoir.
Request a Quote
Error, ensure all information is entered
Your content has been submitted
Our Branches
Lot 10 York Road, Quairading, WA, 6383
PO Box 71, Quairading, WA, 6383
Quairading@Agimplements.com.au
2 Great Eastern Highway, Cunderdin WA 6407
2 Great Eastern Highway, Cunderdin WA 6407
Cunderdin@Agimplements.com.au
3 Shadbolt Street, Mukinbudin, WA, 6479
3 Shadbolt Street, Mukinbudin, WA, 6479
Mukinbudin@Agimplements.com.au
20 Yilgarn Avenue, Northam, 6401
PO Box 276, Northam, 6401
Northam@Agimplements.com.au
14 Latham Rd, Narembeen, WA, 6369
PO Box 303 Narembeen, WA, 6369
admin.narembeen@Agimplements.com.au
Lot 1474 East Barrack Street, Merredin WA 6415
PO Box 250, Merredin, WA 6415
admin.merredin@Agimplements.com.au
More Info
The information on this page is correct at time of publish and as per John Deere Aus. We reserve the right to change content at any time without prior notice. For more information please contact us.
December 12,2018 08:17:53 Central Standard Time
Related Products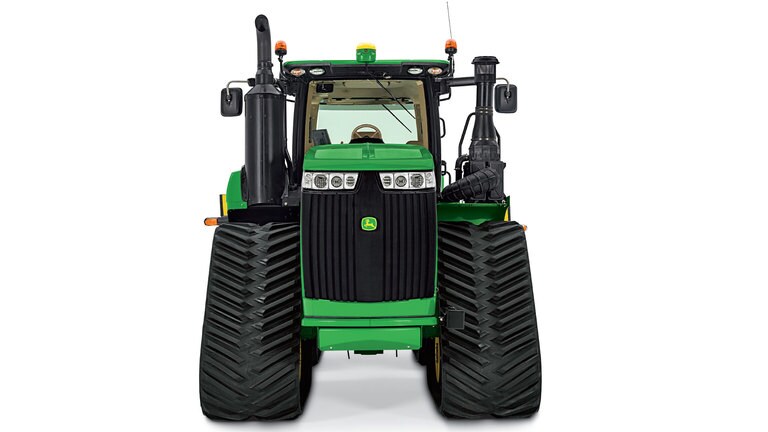 The 9570RX 4-Track Tractor is the perfect combination of power, performance and intelligence all wrapped up in a 4-Track.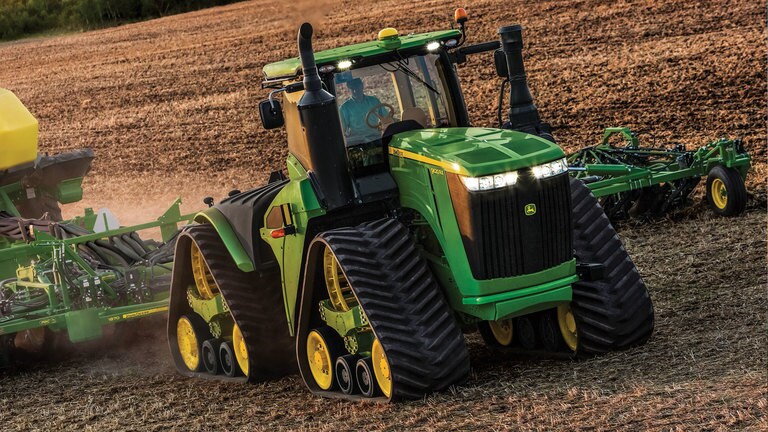 The 9620RX 4-Track Tractor is the perfect combination of power, performance and intelligence all wrapped up in a 4-Track.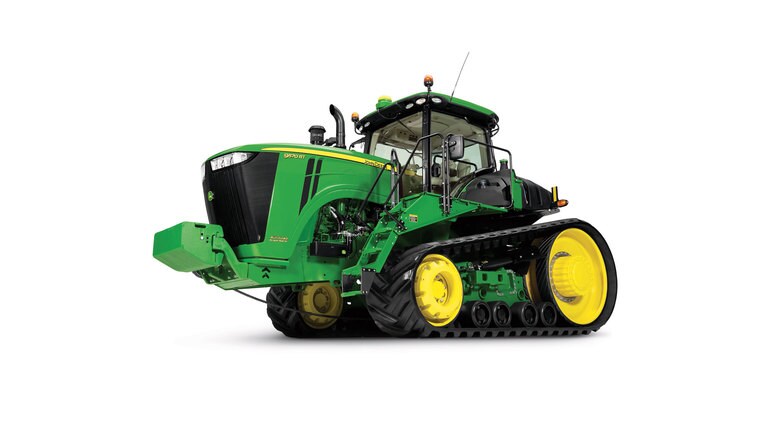 The New 9RT Series Tractors are built to defy convention. With more engine horsepower (470 - 570 engine hp) and efficient FT4 engine technology, these machines welcome a good chall...